How many lesson's does it take to improve your golf swing? 1
Finally, see instantly how much your head and eyes are moving during the swing, chip, or putt! The player will only see 1 colored circle around the ball.
​ Adjust the size to fit any shot or swing.
Hit More Solid shots for a Lifetime in you're Tour View, Magic Glasses
​ $39.99
Polycarbonate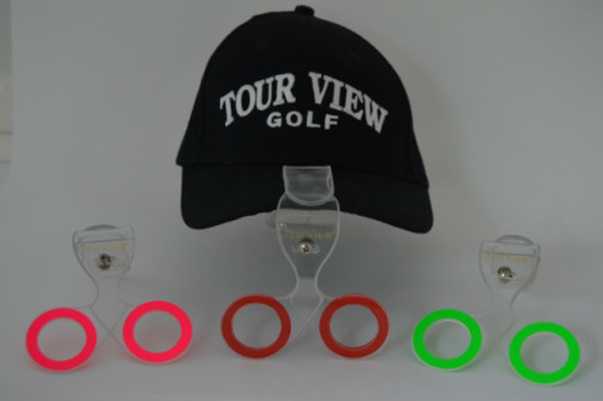 ---
The circle shows you how much & what direction you're moving !!

SUPER Testimonials Below! From the greatest players in Golf!!





JUST KEEP THE BALL INSIDE THE colored CIRCLE AS YOU SWING !
" LET'S MAKE GOLF SIMPLE "


---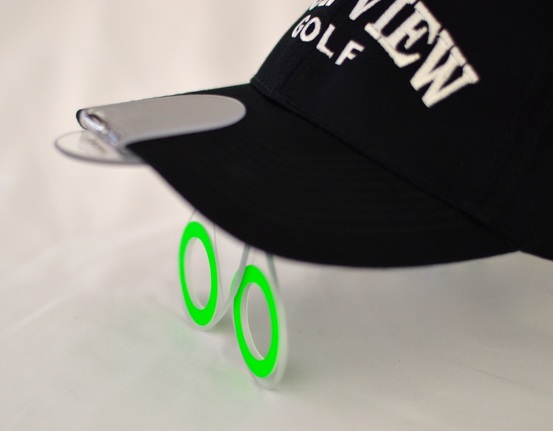 BEN HOGAN " WOULDN'T IT BE GREAT TO KNOW WITHOUT THE HELP OF A COACH, IF YOUR HEAD REALLY WAS STILL, AND IF YOU REALLY WERE WATCHING THE BALL AS YOU EXECUTE YOUR SWING."
***** NOW *****

" For the first time in the history of golf a device that VISUALLY shows YOU during your swing how much your head and eyes move around !" There's never been anything like it "
​


"LETS MAKE GOLF SIMPLE "
Mike Jones Owner/Inventor


BOBBY JONES " SHOULD YOUR HEAD EVER GET AHEAD OF THE BALL, AT ANY POINT IN THE SWING, A POOR SHOT WILL NO DOUBT RESULT. "
JACK NICKLAUS " ANY SHIFTING OF THE HEAD, AT ANY POINT FROM ADDRESS TO IMPACT WILL ALTER THE ARC AND PATH OF THE SWING."
TOMMY ARMOUR "THE CARDINAL PRINCIPAL OF ALL GOLF SHOT MAKING IS THAT IF YOU MOVE YOUR HEAD, YOU RUIN BODY ACTION."
HARVEY PENNICK " IF YOU MOVE YOUR HEAD FORWARD DURING YOUR DOWN SWING OR THROUGH IMPACT, YOU WILL HIT A WEE UGLY SHOT, PROBABLY A PULLED SLICE."
HANK HANEY "ONE OF THE MOST IMPORTANT LESSONS A JUNIOR PLAYER CAN LEARN IS THAT A CORRECT REPEATING SWING HAPPENS AROUND A FIXED AXIS."
TOM WATSON " STEADY YOUR HEAD. THIS THOUGHT WILL HELP YOUR ARMS SWING FREELY."
JIM FLICK "A STEADY HEAD HELPS CREATE A CONSISTENT BOTTOM OF THE SWING ARC AND ANGLE OF APPROACH FOR EACH CLUB."
TIGER WOODS "I CAN'T STRESS ENOUGH THE IMPORTANCE OF A QUIET HEAD FOR SOLID BALL-STRIKING AND ACCURATE IRON PLAY."HOWEVER YOU NEED TO KNOW WHEN TO RELEASE YOUR HEAD TOWARD THE TARGET. I TRY TO KEEP MY HEAD STILL ON THE BACKSWING AND DOWNSWING."
MIKE BENDER "KEEP YOUR HEAD STILL. MY BEST FINISHES ON TOUR HAVE COME WHEN I'VE PLAYED THINKING ABOUT ONE THING.KEEPING MY HEAD STEADY."
DAVID LEADBETTER ON PALMER: "PALMER WAS KNOWN FOR SMASHING THE BALL, BUT MOST PEOPLE DONT'T REALIZE THAT HE HAD ONE OF THE STEADIEST HEADS IN THE GAME.THIS ALLOWED HIM TO STAY IN CONTROL OF THAT POWERFUL SWING.HES REALLY WOUND UP BUT HIS HEAD IS RIGHT WHERE HE STARTED."
BOB TOSKI ON GOLF CHANNEL JULY 11 2014 " YOUR HEAD IS AN AXIS IN WHICH YOUR BODY REVOLVES UNDER AND AROUND."
BEN HOGAN "WOULD'NT IT BE GREAT TO KNOW WITHOUT THE HELP OF A COACH, IF YOUR HEAD REALLY WAS STILL, AND IF YOU REALLY WERE WATCHING THE BALL AS YOU EXECUTE YOUR SWING.
---
Over half of the PGA CHAMPIONS TOUR AND 300 COLLEGES are training in Tour View Portable Head Stabilizer
THANK YOU JIM BARFIELD OF CURE PUTTERS (FORMER C.E.O WITH RIFE PUTTERS) FOR THE WONDERFUL TESTIMONIALS
---
BRIAN MOGG AND HOST, BRIAN CROWELL HAVE SOME FUN DEMONSTRATING HOW TOUR VIEW WORKS .
Brian Mogg "Instructor of Champions"
Introduces Tour View® to Golf Channels' Newest Program Lesson Tee Live!

Tour View is Featured in:

---
Tour View Golf was featured in Golfweek Magazine on January 22, 2015

"ORLANDO, Fla. – Tour View, a wonderfully simple but effective training aid, won the Most Innovative Concept Award at the 2015 PGA Merchandise Show. There is a story here." says James Achenbach senior writer for Golfweek Magazine

(click here)

Tour View featured in Inventors Digest Magazine June 2015
---
---
---
---
Tour View allows the player to customize the size of the containment circle.

Just slide Tour View
from front to back on the brim of your hat .

Now watch the size change before your eyes!
---
---
---
---
BEN HOGAN
"
Keep your head still
" and "Watch the ball" are some of the most widely heard pieces of golfing advice on the planet. The trouble, of course, is that they are usually uttered
after a bad shot has been hit
! What use is this? Almost none. Wouldn't it be great if you could know, without the help of a coach, if your head really
was
still, and if you really
were
watching the ball as you execute your swing? Wouldn't it be great to know how it feels to do it right, so you can duplicate that feeling on the course? You cannot make a perfect golf swing without steadying your head, you need to find ways to do so.
Tour View's Instant VISUAL feedback of head and eye movement during the golf swing is phenomenal.
GUARANTEED TO HELP YOU HIT MORE SOLID SHOTS !
60 day return policy, if you are not satisfied contact us and return product for refund of purchase price.
T
he #1 Fundamental In Golf : Keep Your Head Steady and your eyes on the ballTOUR VIEW MAKES GOLF SIMPLE !
---
---
---

---
---